Thanks very much to the Association of American Publishers for giving its 2017 PROSE Award in Media & Cultural Studies to Liking Ike: Eisenhower, Advertising, and the Rise of Celebrity Politics.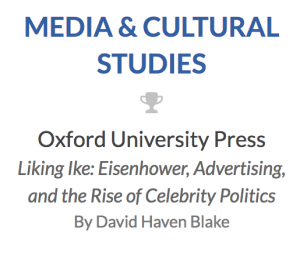 According to the AAP website, the PROSE Awards, "annually recognize the very best in professional and scholarly publishing by bringing attention to distinguished books, journals, and electronic content in over 40 categories. Judged by peer publishers, librarians, and medical professionals since 1976, the PROSE Awards are extraordinary for their breadth and depth."
It is great to have Liking Ike included in such a distinguished group of books.