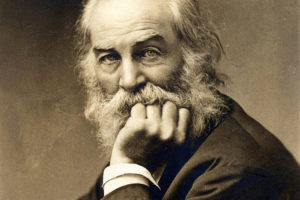 2019 marks the 200th anniversary of Walt Whitman's birth. Around the world, people have celebrated Leaves of Grass, gathering in Philadelphia, New York, Atlanta, Bolton, England, and countless other places to recognize Whitman's poetry and democratic vision. "It avails not, time nor place—distance avails not," Whitman wrote in "Crossing Brooklyn Ferry." "I am with you, you men and women of a generation, or ever so many generations hence." Like Jennifer Crandall's breathtaking video series "Whitman, Alabama," these celebrations have demonstrated how present the poet is with us today.
To celebrate Whitman's 200th birthday, Brian Clements of the North American Review has launched the Every Atom project in which 200 contributors write a short essay on a passage from "Song of Myself."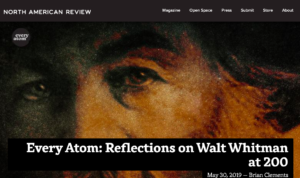 Founded in 1815, NAR is the perfect magazine to publish this work. The oldest literary magazine in the United States, its past contributors range from Ralph Waldo Emerson and Frederick Douglass to William Carlos Williams and Flannery O'Conner. "The North American," Whitman once told a friend, "is hospitable to new, strange views; invites, accepts, and that is a gift these days."  For my selection, I chose a single line from section 25 of "Song of Myself": "My voice goes after what my eyes cannot reach" in which, I argue, the poet becomes a voyager, "his voice audaciously pursuing others like a lover, hunter, or follower of new gods."  You can read the short essay here.