People were talking about Eisenhower as a presidential candidate long before his 1952 campaign.  In 1950, songwriter Irving Berlin included a song "They Like Ike" in Call Me Madam, a Broadway musical starring Ethel Merman as a Washington socialite who becomes ambassador to the fictional country Lichtenburg.  The musical went on to win four Tony Awards (including one for Berlin for Best Original Score.)  "They Like Ike" not only promoted the possibility of an Eisenhower candidacy, but it helped coin the most effective political slogan in the history of the United States.
Help from the entertainment industry would continue through the Eisenhower campaigns. In 1952, Roy Disney, Walt's business savvy brother, collaborated with advertising executives on a television commercial promoting General Eisenhower for president.
     By 1956, scores of celebrities had joined the Eisenhower campaign, performing at rallies, speaking at press conferences, and appearing on television.  Singers Kathryn Grayson and Howard Keel performed a series of Eisenhower favorites on a program celebrating President Eisenhower's 66th birthday on CBS.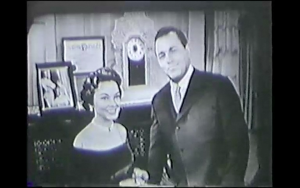 Broadcast only weeks before the November election, the program promoted a vision of the president as a genial patriarch whose likability put him above partisan politics. In this screen grab (courtesy of Rutgers University Libraries and Albert King) , Grayson and Keel sing "Down Among the Sheltering Palms" in a replica of the Eisenhower family living room in Abilene, Kansas.  (The photograph behind them is of a young Dwight and Mamie.)
While Eisenhower enjoyed a considerable advantage when it came to attracting stars, his Democratic opponent, Adlai Stevenson, drew his own set of celebrity endorsements.  Organized by Hollywood activists (rather than the Madison Avenue executives who ran Ike's star campaigns), the commercials supporting Stevenson were often lighthearted, partisan skits that directly invoked political issues of the day. But Stevenson had a strangely erotic appeal to Hollywood women that shaped their activities.  In the below commercial, for example, a member of the Hollywood Democratic Club touts her passion for the Democratic candidate.
If the Republicans liked Ike, the Democrats claimed that they loved Adlai, madly.  Can you imagine a commercial such as this one today?